Here at Etesse and Godes Holistic & Cosmetic Dentistry, we provide a safe and comforting environment to those undergoing a variety of dental procedures. At our office, there's no need to feel nervous about going to the dentist, but if you do have some dental anxiety, we offer sedation dentistry options that might help!
Benefits of Sedation Dentistry
Having dental anxiety or a dental phobia are valid and real medical concerns. These fears can inhibit patients from attending their dentist regularly, which can result in bad oral health and even illness.
Sedation dentistry is an option for those patients who are worried about pain, gagging, or undergoing multiple procedures, and those who have unexplainable anxiety about dental work. Here are some examples of how sedation dentistry might help you:
Anxiety-Free Dental Experiences: Sedation dentistry uses safe, controlled sedative agents to ensure that you remain relaxed throughout your dental visit. Even complex procedures become less intimidating, leading to a more positive overall dental experience.
Time-Efficient Treatments: Sedation dentistry allows us to perform longer procedures in a shorter time or multiple treatments in one appointment. This is made possible because sedation keeps you comfortable for an extended period. It's an ideal solution if you have a busy schedule and want to minimize the number of dental visits.
Relaxing Procedures: Sedation dentistry can help patients who have difficulties staying still during a dental procedure. This includes children, individuals with certain medical conditions, or anyone who finds it hard to control their movements. Sedation aids in their comfort and allows dentists to perform treatments effectively and efficiently.
Comfortable Post-Operative Experiences: With sedation dentistry, patients often report little to no discomfort after procedures. The sedative agents used not only help during the treatment but also minimize post-operative symptoms like swelling or pain. This means a quicker, more comfortable recovery period for you.
Better Long-Term Oral Health: By making dental visits more pleasant, sedation dentistry encourages regular dental care, leading to better long-term oral health. Fear or anxiety won't prevent you from receiving the necessary treatments or routine check-ups, thereby helping you maintain a healthy smile for years to come.
Dental Sedation Options at Etesse and Godes Holistic & Cosmetic Dentistry
Our office is one of the few practices in the area that offers sedation dentistry! We provide three types of sedation to help ease your concern and worries when undergoing dental treatments.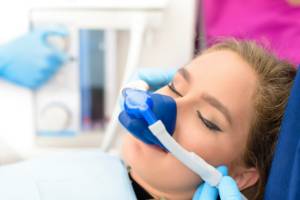 Laughing Gas
Laughing gas is used at our Solana Beach office to provide a mild sedation option for patients. Laughing gas is a mild sedative that reduces anxiety and promotes relaxation in patients undergoing a dental procedure. When you breathe in the laughing gas, you will feel calm and almost euphoric. Once the procedure is over, it does not take much time for the laughing gas effects to wear off.
Oral Conscious Sedation
Oral sedation is a more moderate approach when it comes to dental sedation. Oral sedation is also known as "pill sedation." Your dentist will prescribe a sedative in the form of a pill that you'll take in the hours leading up to your appointment.
Oral sedation helps control anxiety and fear, so the dentist is able to perform their dental work. Oral sedation is very easy to administer, does not require needles, and is a safe and responsive way to combat the anxiety a patient might feel during a dental procedure.
Please keep in mind that if you use oral conscious sedation, you will need someone to drive you to and from your appointment so that you can make it safely there and back.
General Anesthesia
General Anesthesia is a very deep sedation option for patients undergoing longer or more severe dental procedures. It is also an option for patients who have a lot of anxiety that might interfere with their ability to undergo a dental procedure safely. General anesthesia is a medication that is given through an IV which causes complete unconsciousness, relaxed muscles, painlessness, and little to no recollection of the procedure.
We have an anesthesiologist come to our dental procedures to administer general anesthesia to our patients.
Eliminating Your Fear of the Dentist
Here at Etesse and Godes Holistic & Cosmetic Dentistry, we want our patients to feel comfortable and familiar with our office and our staff. By providing sedation dentistry, we believe that we allow our patients to feel safe as they undergo a variety of dental work done in our office.
Please discuss your concerns or questions about sedation with our staff as you are planning your dental work. We want you to be able to receive the oral treatments you need without worrying about anxiety or pain.
Why You Should Choose Us to Ease Your Dental Worries
At Etesse and Godes Holistic & Cosmetic Dentistry, we pride ourselves in not being like your typical dental office. We make patient care and patient mental well-being driving forces in our dental practices. Our focus on holistic dentistry means we'll be making sure all of you benefits from your treatment, not just your mouth.
Contact Us With Your Dental Sedation Questions!
Don't let dental anxiety or the fear of pain keep you from obtaining the dental care that you need! Call us today to schedule an appointment with our dentists to discuss your questions or concerns. We want you to achieve the dental health and smile you deserve!