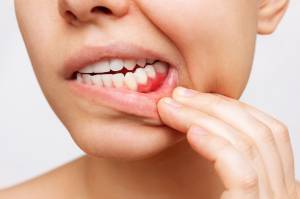 Gum disease is an infection in the gums caused by bacteria. Gum disease usually presents itself when the patient has poor oral hygiene.
Healthy gums will fit firmly and snugly around the teeth, but if you have gum disease, you may experience these symptoms:
Swollen or puffy gums
Bright red or dark purple gums
Gums that bleed easily
Dental abscesses
Bad breath (halitosis)
It is important that patients understand that the best way to prevent gum disease is by brushing at least twice a day, flossing daily, and having regular dental check-ups. Some people have gum disease but do not know it. Therefore, getting regular dental check-ups is vital in detecting gum disease and treating it before it gets worse.
Factors That Can Increase the Risk of Developing Gum Disease
Gum diseases can happen to anyone, especially those who don't take good care of their gums. However, some factors can increase your risk of getting gum disease:
Age: Studies have indicated that 70% of Americans 65 or older are more likely to have some form of gum disease.
Smoking/Tobacco Use: Tobacco users are at a more increased risk for periodontal gum disease. Tobacco use can cause the progression of gum disease to worsen more quickly.
Poor Nutrition: Having proper nutrition is important for our overall health, including our oral health. Having a poor diet contributes to the body's immune system's inability to fight off infections such as gum disease.
Clenching/Grinding Your Teeth: When you clench or grind your teeth, you are putting excess force on the tissue supporting your teeth. This pressure could speed up the rate at which gum tissues are compromised.
Poor Oral Hygiene: Brushing and flossing your teeth daily is essential for clean and healthy gums. We also recommend attending the dentist for routine dental check-ups and cleanings at least twice a year.
Symptoms of Periodontal Disease
Periodontal Disease is a serious infection of the gums. It is caused by bacteria that has accumulated on your teeth and gums. You might notice some of these symptoms at home, but it is essential to attend regular dental check-ups so that a dentist can help identify these symptoms. The earlier a dentist is able to identify these symptoms, the quicker they are able to catch periodontal disease and treat it. Here are some symptoms of periodontal disease:
Gums that bleed when you brush your teeth or floss
Bad breath or a foul taste in your mouth
Red, tender, and swollen
Pain when chewing
A buildup of plaque on your teeth
Periodontal Treatment at Etesse and Godes Holistic & Cosmetic Dentistry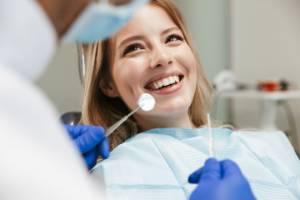 At our Solana Beach office, we specialize in providing care and support to patients with gum disease. We have a board-certified periodontist on our team to meet all the periodontal needs in our office. Our periodontist is able to handle a variety of gum disease treatments including gum surgery if necessary—all in one office.
This allows us to catch gum disease quickly and efficiently! If you are concerned with anxiety or pain during the gum disease treatment process, please speak with our staff about our sedation dentistry options!
Choose Us for Your Gum Disease Treatment!
We know that treating gum disease can be scary and overwhelming! At Etesse and Godes Holistic & Cosmetic Dentistry, we provide a holistic and whole-body health approach to our treatments. Our on-site periodontist can provide you with the care you need! Call us today to schedule your appointment so we can get your oral health back on track!