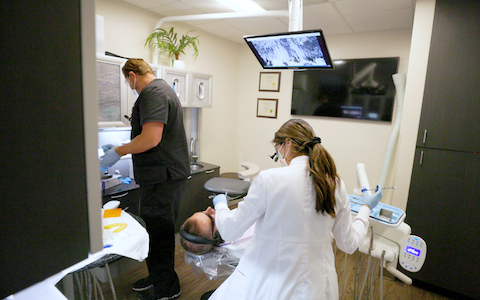 General and preventive dentistry is a crucial and important branch of dental care that helps prevent diseases and other oral problems that might occur.
At Etesse and Godes Holistic & Cosmetic Dentistry, we believe in using preventative dental care as an integral part of our practice. General and preventive dentistry is one of the most valuable tools available to those who wish to preserve good oral health. We believe that prevention is the most effective way to protect a patient's teeth and gums.
Five Stars on Google
Everyone is very friendly and knowledgeable here. I always feel so comfortable and well taken care of! I love that they are holistic as well. Great dentist office!

Meghann J.
Wonderful experience all around!!! The office uses the latest technology and high-quality materials, holistic approach, very friendly and personable. So happy I have found this practice!

Marina S.
General and Preventive Dental Procedures at Etesse and Godes Holistic & Cosmetic Dentistry
Regular Check-Ups and Teeth Cleanings
Maintaining good oral hygiene is crucial to preventing diseases and other oral disorders. Regularly attending the dentist to have check-ups and teeth cleanings is ensuring your oral health is in line.
During your visit, you will have your teeth checked and x-rays taken of your teeth, and then we will clean your teeth and gently remove any plaque or built-up tartar that may have accumulated.
Regular check-ups and teeth cleanings allow us to catch any oral problems that might be popping up and treat them quickly before they get worse. We recommend having your regular check-ups and dental cleanings at least twice a year.
Oral Cancer Screening
An oral cancer screening is an exam that looks for signs of cancer in your mouth. The different types of oral cancer include; mouth, jaw, and tongue cancer.
At Etesse and Godes Holistic & Cosmetic Dentistry, we will examine the lining of your cheeks, lips, tongue, gums, and the floor and roof of your mouth to look for abnormalities. If we find anything suspicious, we will refer you to an oncologist for further testing. Having regular check-ups allows us to screen patients and catch early signs of cancer if they are present.
Dental Fillings
Dental fillings are used to treat tooth decay or cavities. At our practice, we use CEREC technology to provide custom-milled fillings instead of just a composite. These custom-milled fillings allow us to restore your teeth to their natural strength and beauty in a single appointment!
As a holistic dental office, we don't use metal in our fillings. Instead, we choose materials that are biocompatible and safe.
Gum Disease Treatment
Gum disease is caused by plaque bacteria that build up on and in between your teeth. If gum disease is left untreated, it can eventually lead to periodontitis which is a more serious type of gum disease.
At Etesse and Godes Holistic & Cosmetic Dentistry, we are proud to say that we have a periodontist on site that works with patients who suffer from gum disease. Our periodontist will provide you with different gum disease treatments that are best suited for your needs.
Treatments could include scaling and root planing or surgical gum treatment if necessary.
PerioProtect
PerioProtect is a non-invasive therapy for gum disease. PerioProtect is a comprehensive periodontal treatment that combines professional cleanings with at-home treatments as well. PerioProtect is an oral appliance that has a special sealing system that delivers a hydrogen peroxide solution below the gum line. This tray is only worn a few minutes a day between office visits to help maintain the health of your gums.
Extractions
Sometimes infections, crowding, or irreparable damage may require a tooth to be pulled or extracted. While sometimes the thought of having a tooth pulled can be scary, in many cases, an extraction can prevent further issues later on. If you are concerned about pain during this procedure, you can speak to our dentists about the different sedation options we provide!
Emergency Dental Care
We provide emergency dental care to our patients. Emergency dental care includes solutions to severe toothaches, dental abscesses, knocked-out teeth, or broken cracked teeth. If you are in pain or have an accident, call us immediately so we can help you get back to your normal life.
We Are Here to Keep Your Smile Healthy!
Here at Etesse and Godes Holistic & Cosmetic Dentistry, we are proud to provide many preventative dentistry services to keep you healthy. Call us today to schedule your general and preventative dentistry appointment!