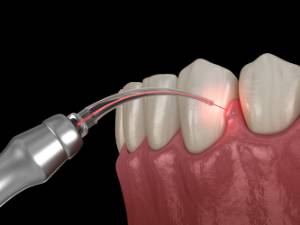 At Etesse and Godes Holistic & Cosmetic Dentistry, we use laser dentistry for many procedures that we perform in our office. We use a soft tissue laser that is ideal for removing overgrown tissue, reshaping gums, or whitening teeth. We also have a board-certified periodontist on our team that performs many of the laser dentistry procedures in our office.
Benefits of Laser Dentistry
At our dental practice, we choose laser dentistry for some of our procedures because it provides a more smooth procedure, makes treatments more accurate, and reduces discomfort and healing time for our patients. Here are some other benefits to laser dentistry:
Faster healing time. Laser dentistry promotes coagulation, reducing swelling and accelerating tissue healing. This means you can recover and return to your normal routine much quicker than with traditional surgery.
Less pain. The laser's precision minimizes damage to surrounding tissue, resulting in less discomfort during and after the procedure. It often reduces the need for pain medications, making your dental experience more comfortable.
Less post-surgical bleeding. Lasers cauterize as they cut, decreasing the amount of bleeding both during and after the procedure. This makes the overall experience cleaner and more controlled.
Less chance of infection. Since the laser sterilizes the area being treated, it significantly reduces the chances of post-operative infections, providing a safer treatment option.
More precise treatments. The laser can target the treatment area with extreme precision, preserving more of the healthy tooth or gum tissue. This accuracy also allows for more effective treatment of complex dental issues.
Lower likelihood of needing stitches. Laser dentistry often eliminates the need for sutures. This results in a more comfortable post-operative experience and lessens the overall recovery time.
At Etesse and Godes Holistic & Cosmetic Dentistry, we take a holistic approach to our laser dentistry. With our periodontist on staff that assists with our laser treatments, we provide safe and quality services to our patients.
Laser Dentistry Uses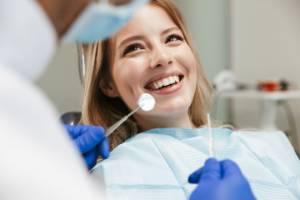 Laser dentistry has changed dentistry. At our practice, we use lasers many treatments, including the following:
Frenectomies: A frenectomy is a procedure that involves releasing the frenum (band of fibrous tissue) from under the tongue or upper lip to allow for a better range of motion. When the frenum is taut or connected too far, it's known as a tongue-tie. During a frenectomy, we will use our soft tissue laser to release the frenum.
Gum Lift: For some people, a good portion of their teeth are covered by their gums. We provide a laser gum lift treatment that allows us to remove some of the tissue covering the tooth. This recontours the gum line to reveal more of your pearly whites.
Gingivectomy: Gingivectomy is one of the most common procedures that are performed with dental lasers. This type of laser procedure treats periodontal disease by removing the pockets and seals the gums to the teeth.
Laser Bacterial Reduction: Bacteria can cause infection, disease, and inflammation. We use Laser Bacterial Reduction (LBR) in our office to help destroy the bacteria that might cause inflammation or periodontal disease. Our hygienists are able to perform LBR right in the hygiene chair for patients with periodontal disease.
Cold Sore and Canker Sore Treatment: Cold sores are blisters on and around the mouth that are caused by the herpes simplex virus. We provide laser therapy to help treat cold and canker sores. Laser treatments destroy the virus that causes the sore and can provide immediate relief to the patient.
Faster Teeth Whitening: Laser teeth whitening is a procedure that is able to whiten your teeth quickly and efficiently. During the procedure, we will place bleaching gel on your teeth and then apply the laser over your teeth to heat up the gel. This activates the whitening properties and alters the stain molecules on the teeth.
Call Us Today For Your Laser Dentistry Needs
Here at Etesse and Godes Holistic & Cosmetic Dentistry, we are proud to offer laser dentistry as part of our dental procedures. Laser dentistry allows us to provide an efficient and safe way to treat patients. We also have a periodontist on site that helps provide our laser dentistry services. Call us today for any questions you have about our laser dentistry services!