At Etesse and Godes Holistic & Cosmetic Dentistry, we provide mercury-free dentistry as part of our holistic services. We are proud to provide cavity fillings that do not use any mercury or metal. Our fillings are safe, tooth-colored, durable, and perfect for just about everyone!
What Is Wrong with Metal Fillings?
You or someone you know might have a "silver" filling in their mouth. A "silver" filling is a mixture of mercury-silver, tin, and other metals. Together these metals are called amalgam.
Though these fillings have been used for many years and are fairly inexpensive and easy to apply, they can be toxic and unhealthy. Every time you chew, a small amount of mercury from your filling is released into your body. While a lot of people are not as affected by metal fillings, for some people it can cause some real health problems.
Some health problems seen from these metal fillings could include:
Tremors
Insomnia
Headaches
Nerve damage
Kidney problems
Respiratory failure.
Pregnant women or women that are nursing should not get amalgam fillings because the mercury exposure is known to have a severe negative impact on unborn and young children.
Do All Metal Fillings Contain Mercury?
Yes, all metal fillings do contain mercury. Metal fillings are also called dental amalgams or silver fillings. Dental amalgams are a compound of mercury combined with other metals. Mercury is considered a heavy metal and can be very dangerous to your overall health. Speak with one of our dentists if you have any questions about your fillings and whether they contain mercury.
Safe Amalgam Filling Removal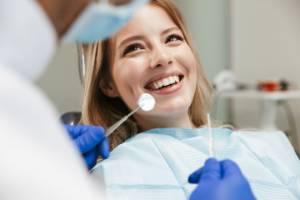 Due to the unsafe risks of mercury poisoning, it is important to find a dentist that knows and is trained in the proper amalgam removal protocol. Properly removing the amalgam filling helps prevent mercury exposure to the patient and to the dentists. At Etesse and Godes Holistic & Cosmetic Dentistry, we have the knowledge and training to provide a safe amalgam filling removal procedure.
We follow a specific protocol that safely removes the amalgam filling. This process involves keeping the filling cool and removing the amalgam in small chunks so that there are less mercury vapors.
Tooth-Colored, Custom-Milled Fillings
At Etesse and Godes Holistic & Cosmetic Dentistry, we provide tooth-colored fillings that are custom-milled to perfectly match your existing teeth. A filling is used to restore damaged teeth back to their normal shape and function.
Metal amalgam fillings, although they are strong, actually can weaken your tooth over time. They can even expand and contract with changes in temperature.
A tooth-colored filling is non-toxic and actually can strengthen your tooth. Our custom-milled fillings are made outside of the mouth using a process called casting or milling. When the customized piece is ready, it is cemented into the tooth.
This type of filling is very durable and can be used on cavities or cracks in the teeth. The fillings are matched to the natural color of your teeth so that they blend nicely in your mouth.
Choose Us for Your Mercury-Free Dentistry Needs!
Because we believe in a deep connection between the mouth and the rest of the body, we do not use metal in any of our fillings in our dental procedures. We provide a safe and holistic approach to your dental care! If you have metal fillings, please consider us to remove them safely, so your body can feel healthier! Call us today so we can set up an appointment to meet your mercury-free dentistry needs!