At Etesse and Godes Holistic & Cosmetic Dentistry, we are proud to offer holistic services to our patients. We believe in providing a whole-health approach to treating dental problems. Our holistic outlook means we focus on treating the underlying causes of dental problems, not just the symptoms.
Why Choose Holistic Dentistry?
Holistic dentistry has many benefits that will help optimize not only your oral health but your overall health as well. A dentist who practices holistic dentistry looks at the mouth as part of a whole, so whatever treatments you receive will be beneficial to your whole body.
Here are a reasons to choose holistic dentistry:
Benefits to Your Overall Health: When you come to our dental practice, we look at your oral health in context with the rest of your body. Conditions in the teeth can also cause side effects throughout the entire body and vice-versa. We can help evaluate your symptoms and search for ways to optimize your oral and overall health.
Optimal Healing and Health: Holistic dentistry encourages optimal healing and health. At our practice we use ozone therapy, an effective treatment that helps kill disease and encourage the body to heal itself. Instead of using medical intervention when it isn't necessary, we encourage the body to do what it was made to do.
Minimally Invasive Treatments: We try to maintain a minimally invasive approach to our dental procedures. With holistic dentistry, when we are removing a cavity, we try to only remove as little tooth material as possible. We try to maintain as much of the natural tooth as we can. Minimally invasive treatments allow for quicker healing time as well.
Non-Toxic and Biocompatible materials: Our holistic dentists offer mercury-free dental fillings and crowns. Our fillings and crowns are natural and completely safe and mercury-free. We are also able to remove your old amalgam fillings and crowns and replace them with our non-toxic materials.
Five Stars on Google
This practice is wonderful and holistic! The staff is friendly and the care is impeccable. They offer the latest technology including ozone and healthier product alternatives. They took the time to answer all of my questions thoroughly. So glad that I found them.

Briana C.
This is the best dentist office I've been to and I've been to many over the years. Staff is excellent. Doctors are amazing. Holistic and excellent in all aspects.

Mary M.
Dr. Godes was amazing and very knowledgeable of my health concerns and was very kind and respectful. I have been searching years for a good biological dentist like this, so happy to have found her!

Marilyn S.
What Is Holistic Dentistry?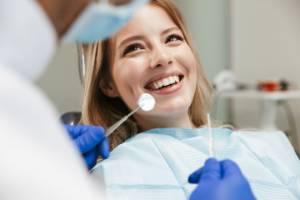 Holistic dentistry is an alternative to traditional dental care. At our practice, we combine complementary and alternative medicine. Holistic dentistry can also be known as natural dentistry and biological dentistry. Holistic dentistry approaches oral care from a holistic perspective. Our natural dentists consider how oral health affects the whole body.
Our Natural Approach
Holistic and natural dentistry is able to treat patients in a variety of ways. Here at Etesse and Godes Holistic & Cosmetic Dentistry, we are proud to provide a holistic and natural approach to all of our dental services.
Whole-Body Health
Many dentists believe in just finding and filling cavities or pulling teeth. Here at our practice, we know that oral health is connected to our whole-body health. We understand that the mouth has a connection to the body. We help our patients understand how they can achieve lasting health overall, with an emphasis on their oral health.
Safe Mercury Removal
For many years dentists have been using amalgam materials for dental fillings and crowns. Now there is a much healthier alternative that is non-toxic and safe for your whole body. We provide safe dental amalgam removal at our office. Get new mercury-free dental restorations in a single visit!
Mercury-Free Dentistry
Amalgam fillings are made of a mercury material that is harmful and toxic to the body. At our practice, we provide a natural approach to our fillings and crowns by using a mercury-free material. These fillings provide not only a non-toxic approach, they also provide aesthetic appeal with their natural appearance that matches your other teeth.
Ozone Therapy
Ozone therapy is used to kill the bacteria in your mouth which enables a healthier immune system and promotes overall health. This therapy is highly effective and minimally invasive. We provide ozone therapy as a holistic approach to treating a variety of dental conditions including periodontal disease, tooth infections, tooth sensitivity, or canker sores.
Cavitation Surgery
A cavitation is a hole in the bone that is usually caused by improper healing from a root canal or tooth extraction. Dental cavitations can be dangerous because they create a place for bacteria to collect. Our holistic dentists are able to perform cavitation surgery to remove the infection and fill it to prevent further infection or pain.
Technology
Providing safe and biological dentistry is very important. Our technology aids us in making our office and services safe. Dental X-rays are important for diagnosing cavities and other oral problems, and in our office we only use our digital X-rays with the lowest radiation possible. This exposes patients to less radiation, making the diagnosis process safer.
FAQs
What does it mean to be a holistic dentist?
A holistic dentist is a medical professional who uses alternative dental practices such as natural remedies and treatments.
Why is mercury-free dentistry important?
Mercury-free dentistry is a healthier option when placing fillings or crowns in the mouth. Mercury exposure can lead to neurological and health problems in some people.
How does holistic dentistry affect my overall health?
Holistic dentistry provides the patient with the opportunity to consult with their dentist about how they can care for their oral and overall health. Holistic dentists are able to provide treatment to different oral health problems with a natural and holistic approach.
Is holistic dentistry worth it?
Holistic dentistry is able to keep patients' teeth healthier by addressing the underlying oral health issues and not just slapping a bandaid on the problem.
Try Out Our Holistic Dentistry Today!
Holistic and natural dentistry has been proven to help many patients with not only their oral health but their overall health and happiness as well! Call us today to schedule your appointment so you can experience the joys of holistic dentistry!