Here at Etesse and Godes Holistic & Cosmetic Dentistry, we offer dental implants as one of the many dental procedures performed in our office.
Unlike many other dental offices, we have a board-certified periodontist on our team who places the implants! This eliminates the need for you to travel to multiple offices to receive the dental work you need. Our periodontist is able to perform the entire implant procedure from start to finish!
What Are Dental Implants?
Dental implants are used to take the place of a lost tooth root. Dental implants are titanium rods that are placed in the jawbone. Once the implant heals, the dentist will restore the chewing surface of the missing tooth by placing a crown, bridge, or denture on top of the implant.
Benefits of Teeth Implants
When you get dental implants, you'll enjoy the following benefits:
A long-term health investment: Dental implants are very durable and usually last longer than other alternatives.
Improved appearance: They also provide a natural look and feel as it provides an artificial root for your tooth.
Restored chewing ability: When dentists put a crown on top of the implant to mimic the look and feel of your natural tooth, you will feel more comfortable eating and chewing.
Bite shift prevention: When you lose a tooth, the surrounding teeth will migrate towards the gap and cause problems with your bite and ability to chew. An implant will prevent tooth shifting.
By receiving your dental implants at Etesse and Godes Holistic & Cosmetic Dentistry, you are able to enjoy on-site access to our periodontist who will work with you through your entire dental implant process!
The Dental Implant Process
When you come to our dental practice, you will work with our team throughout the implant process, from diagnosis to crafting and placing the crown. Here are the steps you will go through to receive your dental implant:
Initial evaluation: We will do a comprehensive examination using a CT scanner to determine the condition of your jawbone and the best way to carry out your dental implant procedure. We will then create a surgical guide so the actual placement of each implant in the patient's jaw is exactly where it needs to be.
Implant placement: Our periodontist will use a surgical guide to place the titanium rods in the jawbone to replace the missing tooth root. We can also perform bone grafts and sinus lifts if there isn't enough bone to support the implants. Sedation dentistry will be used to keep you comfortable during the implant procedure.
Healing: Once the dental implant is placed in the jawbone, you will have a healing period to allow the implant to fuse with the bone in your jaw before we place a crown on top. At our practice, we sometimes use platelet-rich fibrin (PRF) from the patient in the implant procedure to help patients heal faster and to help the implant integrate more quickly into the jaw bone.
Adding the permanent crown: After your gums heal, Dr. Etesse or Dr. Godes will fit and craft a crown for your implant. Their expertise in cosmetic dentistry results in beautiful restorations so the result not only functions like natural teeth, it also looks natural and beautiful.
Tooth Replacement Options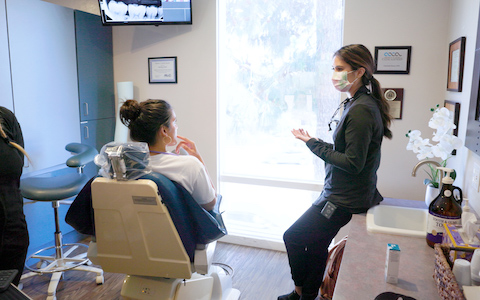 Replacing a tooth is very important after it has been extracted or if it is missing. If teeth are not replaced, the bones in your mouth can weaken and lose density. Your other teeth will also shift around and you will experience trouble eating and chewing. While we provide and suggest implants for missing teeth, there are also other tooth replacement options.
Bridges
A tooth-supported bridge uses your existing teeth on either side of the missing tooth to support a dental bridge. A crown is placed on both of the supporting teeth to support the bridge. Bridges allow for a more economical and comfortable tooth replacement process when compared to dental implants. However, food particles can slip underneath the bridge and it can be harder to clean which causes a greater risk for infection.
Traditional Dentures
Depending on how many missing teeth you have, removable dentures are an option for replacing many teeth at once. Sometimes dentures can be uncomfortable, do not blend, and don't appear as natural as dental implants. However, they are affordable, and we can customize them to fit your mouth.
Flipper
A flipper is a temporary partial denture that is able to flip in and out of its position. It is not dependent on any surrounding teeth and does not have any metal clasps to hold it in place. This is a relatively inexpensive and painless option to replace a missing tooth.
A flipper provides a temporary option until a more permanent option is available. Flippers can sometimes be uncomfortable and are only intended as a temporary option, while a dental implant is a long-term solution for a missing tooth.
Healing After Receiving Dental Implants
The recovery after a dental implant surgery is minimal and as long as you have good oral hygiene you should only need 2–3 days to recover from the surgery.
The initial local anesthesia that is used to numb your dental implant site will wear off within a few hours after surgery. At our practice, we use platelet-rich fibrin (PRF) when necessary to help our patients heal faster.
You should expect to be able to go about your normal daily routines within a day or two of receiving your implant. Continue to have good oral hygiene, but avoid brushing or flossing around the implant site for the first few days. Instead, you can gently rinse with warm salt water to remove any food or bacteria that might cause infection.
Am I a Candidate for Implant Dentistry?
Are you missing one or more of your teeth? Are you tired of dealing with dentures, partial dentures, or bridges? If so, you might be a good candidate for dental implants! Candidates for dental implants need to have good oral health and healthy gum tissues.
If you have insufficient bone density in the jaw, it might prevent you from pursuing a dental implant at most practices. However, at Etesse and Godes Holistic & Cosmetic Dentistry, we perform bone grafts and sinus lifts if there isn't enough bone to support implants. Patients can enjoy the benefits of dental implants that they otherwise wouldn't be able to enjoy!
How Much Does a Tooth Implant Cost?
It is important to remember that dental implants are a long-term solution and not a short-term fix to missing teeth. Therefore, dental implants are more of a financial investment compared to other tooth replacement options.
However, not getting teeth replaced can become expensive really quickly as you could have to pay for gum disease treatments, orthodontics, and tooth extractions. Replace your missing teeth to avoid further dental problems.
Call Us for Your Dental Implant Needs
Gain the confidence you need to smile, speak, eat, and laugh effortlessly again! If you would like to learn more about dental implants, call or visit us today. We are eager to help you love your smile.