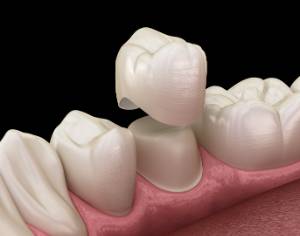 At Etesse and Godes Holistic & Cosmetic Dentistry, we provide a holistic and whole-body approach to our dentistry, including the placing of dental crowns. At our office, we use porcelain dental crowns to restore a tooth that has been damaged due to cracks, staining, or decay.
Benefits of Dental Crowns
There are many benefits to having a porcelain crown placed on a damaged tooth:
Natural Appearance: Porcelain crowns are white in color and allow you the benefit of having a natural-looking tooth.
No Further Damage: Dental crowns play a huge role in protecting the existing tooth from receiving any further damage. Porcelain crowns are able to protect from the common wear and tear that happens naturally in the mouth from eating and chewing.
No More Flaws: Porcelain crowns can be used to cover a chipped, stained, or cracked tooth. The crown helps to protect the tooth from further discoloration or chipping.
Long-Lasting Solutions: Porcelain crowns are strong and durable and can be a long-lasting restoration. However, it is up to the individual to make sure they maintain good oral health and take care of their crowns to help them last longer.
At Etesse and Godes Holistic & Cosmetic Dentistry, we provide same-day crowns so you can get the dental care you need and be on your way! Our skilled dentists have the cosmetic experience to help make the crown look like your natural tooth.
Same-Day Crowns with CEREC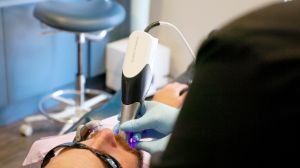 CEREC stands for Chairside Economical Restoration of Esthetic Ceramics. We use CEREC in our office as a modern digital dentistry technology that allows us to create custom-made ceramic crowns to restore damaged teeth. The CEREC technology allows us to shape and color match the crown to match the existing and surrounding teeth. This fast and efficient technology provides us the ability to create and place the crown all in the same appointment.
What Are the Advantages of CEREC Dental Crowns?
There are many advantages to using CEREC same-day crowns over traditional dental crowns. Here are some of the benefits you'll get from receiving our CEREC same-day crowns:
Less Time at the Dentist: Our dentists are able to design and fit your crown within the same day which is able to save you time and follow-up visits!
Improved Appearance: We use a special ceramic material with our CEREC technology that creates crowns that look and feel totally natural!
Comfort During the Treatment Process: Our CEREC technology allows us to use digital impressions to scan your tooth to create crowns that will fit your teeth perfectly.
Restorations that Last 15+ Years: Our crowns are sturdy and durable and can last many years!
Five Stars on Google
Skilled Dentistry, latest technology, highly trained staff… In addition, made efforts to squeeze me into their schedule when I shattered an upper molar. Able to construct a permanent crown for my upper molar in less than two hours… Simply fantastic

Marc N.
Outstanding! Dr. Godes and Jonathan did a remarkable job replacing my crown. Took only one appointment in 2 1/2 hours.

Beverly T.
What Is the Process for Creating Tooth Crowns With CEREC?
When you get a CEREC dental crown at Etesse and Godes Holistic & Cosmetic Dentistry, we'll follow the following steps:
Exam & Diagnosis: The first step will be an exam and screening. Our dentists will examine the damaged tooth and determine if a crown is the right option for you.
Tooth Preparation: The dentist might need to remove an infection to prepare the tooth for its crown. The dentist will also remove some enamel to prepare the tooth for a crown to fit over it.
Intraoral Scan: The dentist will take a digital impression of the patient's mouth and use the CEREC design software to design the crown. The CEREC technology almost acts like a 3-D printer and will carve the crown out of a block of ceramic material.
Fitting: For the last step, the dentist will place the dental crown on the tooth using adhesive or cement, and you'll be able to use your new tooth once the cement cures.
Call Us to Schedule Your Same-Day CEREC Crowns!
We know that your time is precious, and spending multiple hours and days at the dental office isn't ideal! With our same-day CEREC crowns, we are able to get you in and out and feeling your best! Give us a call so we can get your teeth feeling well again!