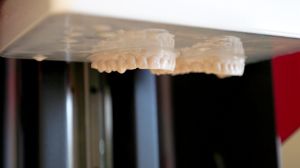 Our dentists and team use state-of-the-art dental technology to provide your treatments. By using the latest dental technologies, we are able to provide you with treatments that are faster, more effective, and of higher quality.
Our dentists and team are dedicated to continually providing you and your family with the highest available level of care. We are committed to meeting all of your dental needs and providing you with a dental experience that is comfortable and pleasant each time you visit us.
To help us achieve these goals, we use state-of-the-art dental technology wherever we can. Dental technology includes a number of cutting-edge tools, equipment, techniques, and materials we use at our office to ensure you receive high-quality, gentle care.
Our dentists and team have received the necessary training to utilize advanced dental technology to enhance your oral health.
Digital X-Rays
Dr. Charlotte Etesse, Dr. Stacy Godes, and our team use the Nomad dental X-ray unit to capture images of your teeth and supporting structures.
This advanced digital imaging device contains a special internal and external backscatter as well as DC voltage and a controlled focal spot, which minimize exposure to radiation for the patient. The images captured by this device allow our dentists to closely examine your smile and plan any treatments that you may need.
Patients more susceptible to radiation should feel safe getting these X-rays, because they use very little radiation.
Intraoral Cameras
An intraoral camera is an effective tool that is used in our office to illustrate what the inside of your mouth looks like. We can use the intraoral camera to show our patients what we're seeing, so they can be active participants in their oral health. Intraoral cameras are tiny digital cameras that are able to capture images and videos of difficult-to-reach areas in the mouth.
We use these images to prescribe the correct treatment for our patients and keep an accurate health history log in each patient's records.
Intraoral Scanning for Clear Aligners
Our intraoral dental scanner is a precise tool we use to make digital impressions for our Invisalign and SureSmile® aligners. This intraoral scanner eliminates the need for traditional "goopy" impressions commonly used with metal braces. This scanner captures a highly accurate full-jaw scan and provides us with a blueprint from which we create aligners that will give you a beautiful, straight smile.
Platelet-Rich Fibrin (PRF)
Platelet-Rich Fibrin (PFR) is made by drawing a small amount of blood from the patient and spinning it in a centrifuge. This platelet treatment is used during many different oral surgery procedures.
PRF allows for reduced healing time and decreases post-treatment pain and swelling. Sometimes patients have heard of PRP instead of PRF when it comes to accelerated tissue healing boosters. PRF is the next generation of healing boosters.
PRF is produced more easily, does not require any additives or blood manipulation, and produces a larger share of product from the blood that is taken from the patient. PRF also contains more stem cells and more healing factors.
CEREC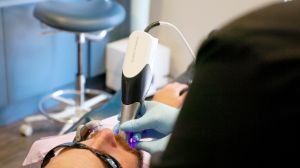 CEREC stands for Chairside Economical Restoration of Esthetic Ceramics. We use CEREC in our office as a modern digital dentistry technology that allows us to create custom-made ceramic crowns to restore damaged teeth. CEREC technology allows us to shape and color match the crown to the surrounding teeth, then mill it in under 30 minutes. You can have a brand-new crown in just 1 appointment.
Soft-Tissue Dental Laser
Dr. Charlotte Etesse and Dr. Stacy Godes use advanced Biolase® Epic iLase® laser technology to perform laser bacterial reduction (LBR) and other procedures.
When LBR is performed, most of the bacteria in the mouth are killed, greatly reducing the strain on the immune system and making cleanings and other treatments safer to perform. Laser dental procedures are highly effective and are also non-invasive, painless, and inexpensive.
The Biolase laser is gentle, flexible, and an effective way to manage gum disease and improve your oral health. We choose laser dentistry for some of our procedures because it makes procedures faster, smoother, and more precise.
Some of the procedures that we use our soft-tissue dental laser for are:
Gum lifts
Frenectomies
Teeth whitening
Cold or canker sore treatment
3D Cone Beam Scanner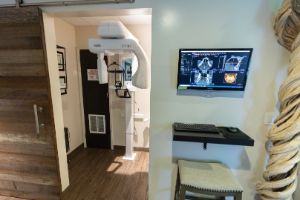 In our office, we use a 3D cone beam scanner to provide excellent dental care to our patients. The 3D cone beam scanner is a highly advanced dental technology that provides us with a three-dimensional image reconstruction of your teeth, mouth, jaw, neck, ears, nose, and throat.
The 3D cone beam scanner helps us plan and carry out treatments. Here are a few examples of how we use it:
Surgical planning for impacted teeth
Evaluating the jaw, sinuses, nerve canals, and nasal cavity
Determining bone structure and tooth orientation
Locating the origin of pain
Reconstructive surgery
Planning dental implant placement
MiniSTAR S®
Our office features the MiniSTAR S® device, a positive pressure machine for thermal folding. Using the Biostar® and MiniSTAR S, our dentists and team can form a wide variety of thermal plastics that range in thickness from 0.1mm up to 5mm. Some of the devices that can be created using this technology include:
Splints
Mouth guards
Bleaching trays
Hawley retainers
Invisible retainers
The MiniSTAR S® device is accurate enough to create a matrix for duplicating models as well, so you will not need to sit through the impression process twice if something happens to your appliance.
3D Printing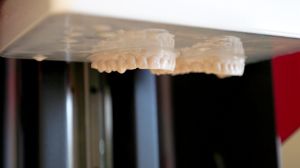 Our dentists use the Sprint Ray 3D printing system to create models and dental appliances with unparalleled levels of speed, quality, and precision.
This all-in-one system makes it easy for Dr. Charlotte Etesse and Dr. Stacy Godes to create oral appliances and restorations that perfectly fit your smile and mouth. 3D printing allows us to create very accurate restorations or oral appliances that will be used in your dental treatments.
By using this high-quality printing technology, we are able to provide our patients with the highest quality restoration and will reduce your treatment costs. 3D printing technology is commonly used for:
Dental crowns
Dental bridges
Night guards
Indirect bonding trays
Denture bases
Dental and orthodontic models
See How Our Advanced Dental Technology Can Advance Your Smile!
We strive to use advanced dental technology to make your experience as efficient, comfortable, and enjoyable as possible. Schedule an appointment to see how our technology can help you. We look forward to hearing from you soon!