At Etesse and Godes Holistic & Cosmetic Dentistry, we offer two options for clear braces. We offer Invisalign® or SureSmile® clear aligners to help you achieve the straighter smile that you desire. Here at our office, we pride ourselves in providing a holistic and whole-body approach to straightening teeth.
Unlike metal braces, both Invisalign® and SureSmile® clear braces are virtually invisible, removable, and correct dental issues such as crossbites, underbites, crooked teeth, and gapped teeth. They both allow you to straighten your smile as discreetly as possible.
What Are the Benefits of Clear Braces?
Many people dream of having the perfect smile, but they are deterred from getting braces because they don't want to deal with metal braces. Having crooked teeth can cause people to feel self-conscious about their smile and appearance, which can affect their personal life. Fortunately, there is another way to straighten your teeth!
Here are some benefits of clear braces:
No Embarrassment: Clear braces are wonderful because they are discreet. Most people won't even notice you're wearing them.
No Dietary Adjustments: You can remove your clear braces before you eat, which means there are no restrictions as to what you can and cannot eat.
Easy Cleaning: You can remove your aligners to clean your teeth too! This lessens the build-up of bacteria and plaque, creating an overall healthier smile.
By getting your clear braces at Etesse and Godes Holistic & Cosmetic Dentistry, you can get your teeth straightened in a comfortable, convenient, and professional way. We use holistic dentistry, so your treatment will be beneficial to your mouth and the rest of your body.
How Do Clear Braces Work?
When choosing to have braces, many wonder what is to be expected during the process of obtaining a beautiful smile through clear braces. Below, we've laid out all the details for you, but each case is different. For a more specific treatment plan, schedule an appointment with our Solana Beach office.
Initial appointment
At your initial appointment, we will discuss your dental health goals and determine if clear braces are a perfect solution for you. The process will involve X-rays, an oral exam, and some digital impressions. At Etesse and Godes Holistic & Cosmetic Dentistry, we use digital intraoral scanning, which eliminates the need for "goopy" impressions.
Molding Process
Clear braces or aligners are thin, clear plastic-like trays that are formed to fit an individual's natural teeth. Our dentists will design a series of aligners from impressions of your teeth. These impressions will be sent to a lab where your aligners will be printed. These aligners will gradually work your teeth into their correct placements.
Some patients will need attachments on their teeth to help the aligners fit smoothly and tightly around their teeth. They are barely noticeable, but not everyone will need these attachments.
Wearing the Aligners
Usually a few weeks after your first tray is fitted, it will be time to switch out to a new clear aligner. When a set of aligners has successfully moved your teeth, you will switch out for another set that will then continue to adjust the teeth into their correct placement. We will follow up with periodical visits so we can track your progress and adjust the process as needed.
Straighter teeth!
The severity of your teeth misalignment will determine the length of time you will need to wear the aligners. However, by the end of your clear aligner journey, you will have straighter teeth and a smile you will be excited to share!
Which Do I Choose? Invisalign® or SureSmile® Clear Aligners?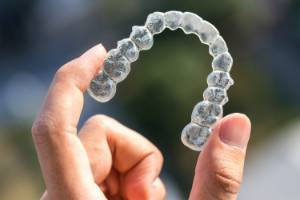 Both Invisalign and SureSmile® aligners are excellent options when choosing which type of clear aligner is best for you. Both aligners are clear and aren't noticeable like metal braces.
They are both removable and convenient to use. Both types of aligners are usually worn around 20–22 hours per day and are usually switched out for a new set of trays after two weeks. However, there are some distinctions between the two types of clear aligners.
Talk with our dentists to see if Invisalign® or SureSmile® are the best options for you to help you achieve the smile you deserve!
FAQS:
Am I a candidate for invisible braces? A good candidate for invisible braces would be an individual with strong discipline to remember to wear their aligners throughout the duration of their treatment. Invisible braces are typically used for patients with minor straightening needs. Speak with our dentists to see if invisible braces are the right fit for you!
Are clear aligners as good as braces? Clear aligners are a great option for straightening your teeth more discreetly. Clear aligners are typically used for straightening less complex corrections. Metal braces are a good universal treatment that works for both minor and complex circumstances.
How old do I have to be to get clear aligners? Many adults love clear aligners. Clear aligners require a more hands-on approach for straightening teeth, that is why we usually recommend not starting clear aligners before the age of 13 years old. However, we recommend that close parent supervision be used during the children's treatment process.
Find Out If Clear Braces Are the Solution for Your Smile!
Contact us today to meet with our dentists to discuss your journey to straighter teeth and a healthier smile! We can't wait to get started helping you achieve your perfect smile!