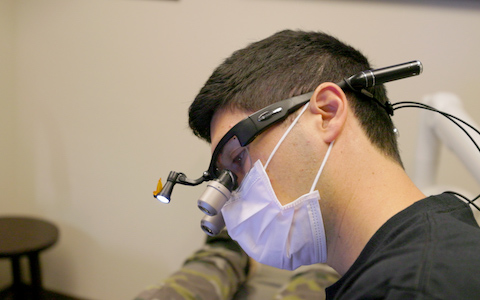 Here at Etesse and Godes Holistic & Cosmetic Dentistry, we have a board-certified periodontist on our team that works directly with patients in our office. This allows our patients to receive many procedures right in our office without needing to visit an off-site periodontist!
What Is Periodontics?
Periodontics is the dental term devoted to everything that is "around the tooth." This includes tooth roots, gums, and jawbone. A periodontist is a dentist who works around the tooth. A periodontist specializes in diagnosing and treating problems that affect the gums and supporting tissues of the teeth. A periodontist focuses on periodontics, which is the health of your gums and jawbone as well as dental implant surgical therapy.
Our Board-Certified Periodontist
Dr. Travis Steinberg, a native San Diegan and top UCLA graduate, is a periodontist committed to improving the oral health of the Solana Beach community. He places high importance on the connection between oral and systemic health. Having specialized in periodontal and dental implant surgery, he continues his relationship with UCLA as a literature course director for the current UCLA residents. Outside of his profession, Dr. Steinberg enjoys sports and spending quality time with his wife, Dr. Etesse, exploring new restaurants and hiking trails.
Periodontal Procedures Offered at Etesse and Godes Holistic & Cosmetic Dentistry
Our in-house periodontist is trained in many types of oral procedures. They can help you with gum disease, missing teeth, tongue ties, and more!
Dental Implants
Dental implants are artificial tooth roots, typically made from titanium, that we place into your jawbone. These implants provide a robust base to support replacement teeth, like crowns, bridges, or dentures. This gives you a natural-looking and functioning tooth, bringing your smile back to life.
Bone Grafts
Bone grafts are often performed alongside dental implant surgery. If a person does not have enough bone tissue to support teeth or implants, a bone graft may be needed. Bone grafts help reinforce the dental bone that is needed for stabilizing teeth.
Sinus Lifts
Sinus lifts are a surgical procedure that adds bone to the upper jaw. The bone is placed around the area that supports the molars and premolars. A sinus lift is often needed before getting dental implants if there isn't enough bone in the upper jaw, or the sinuses are too close to the jaw, for the implants to be placed.
Gum Recession Treatment
Gum recession is when the gum tissue is pulling away from your teeth and exposing the roots underneath.
This can make your teeth more sensitive and vulnerable to cavities. Our periodontist can help diagnose and provide nonsurgical and surgical treatments for gum recession, depending on the severity.
If needed, our periodontist can treat gum recession through surgery. In gum recession surgery, our periodontist will use a gum graft to replace the missing gum tissue and stitch it in place.
Periodontal Disease Treatment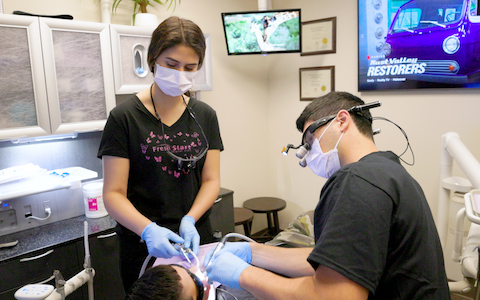 Periodontitis is a gum disease that can cause red, bleeding, or swollen gums. Depending on the severity of your gum disease, our periodontist could prescribe a non-surgical or surgical periodontal disease treatment.
For the nonsurgical approach, our periodontist could recommend scaling and root planing to do a deep dental cleaning. For a surgical treatment for periodontal disease, our periodontist could recommend flap surgery, dental bone grafts, or gum grafts.
Our periodontist will answer any questions you might have about your treatment plan!
Frenectomy
A frenectomy is a simple surgical procedure that we perform to remove or adjust the small bands of tissue connecting your lips to your gums, or your tongue to the floor of your mouth, known as frenums.
Sometimes, these frenums can be overly thick or tight, limiting movement and causing issues such as speech difficulties, gum recession, or gaps between teeth. By carefully removing or adjusting this tissue, we can alleviate these problems and improve your oral function and comfort. It's typically a quick procedure with minimal discomfort and recovery time.
Platelet-Rich Fibrin (PRF) for Faster and Better Healing
At our dental practice, we use Platelet-Rich Fibrin (PRF) to help improve bone and soft tissue regeneration. PRF is made from a small sample of your blood that is spun in a centrifuge to create a membrane that is placed on your surgical site. This procedure is very simple and ensures that the surgical site is free from infection and heals faster.
Call Today to Schedule an Appointment with Our On-Site Periodontist!
Our board-certified periodontist is able to provide you with the treatments you need for healthier gums! No need to travel to multiple dental offices to see a periodontist, we have one right here in our office! Call today to schedule your appointment so you can start your treatment for healthier gums!