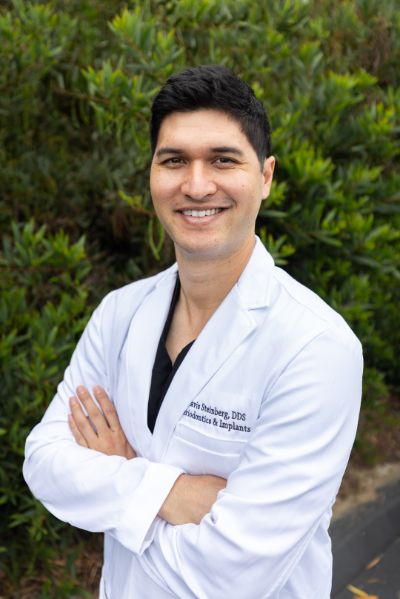 MEET DR. TRAVIS STEINBERG
Experience
Dr. Travis Steinberg is a compassionate practitioner that values high quality dentistry and the overall patient experience. As a native San Diegan, he feels gratified to now improve the overall oral health of the San Diego community. Dr. Steinberg attended the University of California, Los Angeles where he graduated with honors and earned a Bachelor of Science degree. He completed his dental education at the UCLA School of Dentistry where he excelled, graduating Summa Cum Laude at the top of his class.
Dr. Steinberg developed an interest in periodontal and dental implant surgery while in dental school and pursued this interest with more advanced surgical training as part of a postgraduate residency at UCLA. During this residency he also performed research on the stability of dental implant designs and implementation of the periodontal disease classification. After earning his certificate in periodontics and implant surgery, he has continued his relationship with UCLA by serving as course director for current literature review with periodontics residents.
Professional Affiliations
RESIDENCY and NOTABLE CONTINUING EDUCATION
Advanced continuing education courses in dental implant surgery, dental implant esthetics, bone augmentation, soft tissue grafting, and sinus bone grafting
Advanced training and certification in oral conscious sedation and IV sedation
Outside of Dentistry
Dr. Steinberg is a big sports fan. He enjoys watching sports and playing sports, including basketball and tennis. He met his wife, Charlotte, during dental school and they can often be caught enjoying leisurely hikes, trying out new restaurants, and spending time with their two nieces.