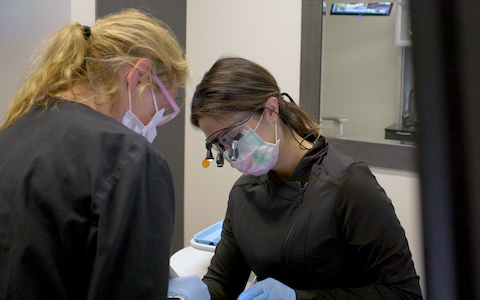 What Is Restorative Dentistry?
Restorative dentistry is a branch of dentistry that is focused on restoring the health and function of your smile following tooth damage, tooth decay, or tooth loss. Restorative dentistry aims to restore both the function and the appearance of your teeth.
When Would I Need Restorative Dentistry?
Our dentists will determine if restorative dentistry is needed for a patient when looking at the condition of their teeth, gums, and even medical history. Restorative treatments are usually used to remedy structural damage to teeth. There are many reasons why a person might need restorative dentistry to help their overall oral health. Here are some scenarios when restorative dentistry would be used:
Replace Missing Teeth: Implants, bridges, or dentures can replace missing teeth. A dental implant is a replacement tooth root that is placed into the jawbone so that the implant can be attached to it. A bridge is a string of false teeth used to fill in spaces of missing teeth. Dentures are also an option to replace full arches of missing teeth.
Repair Broken or Chipped Teeth or Facial Trauma: A crown can be used to fix broken or chipped teeth. A crown is a tooth-shaped cover that is put over the existing damaged tooth. The crown is cemented to the damaged tooth to help protect and improve your smile.
Periodontal Disease: To restore the gums after periodontal disease, our periodontist uses a variety of techniques, including gum surgery, if necessary. Our holistic approach to gum disease treatment can improve your overall health and your oral health.
Preventing Tooth Decay: If you have a tooth that has decay, you'll need a tooth filling in your tooth. A tooth filling is a way of removing decay or infected material from the tooth and then filling the tooth cavity with a filling material. This prevents the tooth from continuing to decay.
Removing Existing Metal Fillings: Restorative dentistry can also remove existing metal fillings with non-metal, tooth-colored filling material so that the filling poses no risks to you.
Benefits of Restorative Dentistry
Through restorative dentistry, you can gain or regain a smile that is healthy, functional and beautiful once again. Our restorative dentistry options are comfortable and look natural so you can feel confident in how your smile looks and functions. There are many benefits to restorative dentistry. Some benefits include:
Teeth restored to their proper healthy functions
Improved tooth appearance
A confident smile
Toothache relief
Prevention of further complications
Here at Etesse and Godes Holistic & Cosmetic Dentistry, we provide a safe, holistic, and whole-body-health approach to restorative dentistry! When you visit our dental office, our caring dentists will carefully examine your smile. Based on this examination, we will be able to provide you with the best possible recommendations for restoring your smile.
Restorative Dentistry Procedures Offered at Etesse and Godes Holistic & Cosmetic Dentistry
We offer a number of restorative dental options to meet your individual dental needs. Whether you have a toothache, a broken tooth, or a missing tooth, we are here to provide you with the restorative dentistry solutions you need.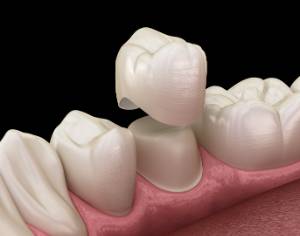 Dental Crowns
A dental crown can be used to fix broken or chipped teeth. A crown is a tooth-shaped cover that is crafted to fit perfectly over the existing tooth. Our experienced dentists may recommend a dental crown to restore your damaged tooth and give you back your smile. With our advanced CEREC technology, we can provide your crowns in a single appointment, eliminating the waiting time traditionally required to complete your treatment.
Teeth Implants
A dental implant is a replacement tooth implanted into the jaw. Implants can improve both oral health and self-confidence when placed by a qualified dentist. Dental implants look and work so much like regular teeth that it is nearly impossible to tell them apart.
Bridges
A bridge is an artificial tooth that is suspended between two crowns. The bridge is held in place by placing crowns over the existing teeth on either side of the bridge. Dr. Charlotte Etesse and Dr. Stacy Godes may recommend a dental bridge if you are missing one or more teeth in a row. Bridges close the gap in your smile, working to preserve your bite, help you smile, and speak and eat normally.
Mercury-Free Fillings
Traditional dental fillings are usually made of a mercury amalgam. At our dental office, we use a composite, tooth-colored dental filling. These fillings are metal-free, so they are safer and more beautiful. This restoration repairs your smile in the most conservative and natural way possible, giving you stunning results and improved health.
Dr. Charlotte Etesse, Dr. Stacy Godes, and our team are dedicated to providing beautiful, healthy, long-term solutions for your smile.
Inlays and Onlays
Dental inlays and onlays are a great solution when your teeth need more attention than a filling but less than a crown. This conservative restorative treatment works to preserve as much of your original tooth structure as possible while also giving you back a completely healthy, functional, and beautiful smile.
See If We Can Help with Your Restorative Dentistry Needs!
We are pleased to offer high-quality restorative dentistry at our practice! With restorative dentistry, you can once again enjoy a confident, healthy smile. Call us today to schedule your consultation with Dr. Charlotte Etesse or Dr. Stacy Godes and learn more about restorative dentistry in Solana Beach, California.