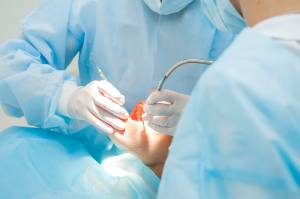 If you are diagnosed with a cavitation, our dentists can provide you with surgical treatment to restore the damaged areas of your mouth. We will work one-on-one with you throughout the surgery and healing process to help you recover and regain your quality of life as quickly as possible. To learn more about cavitation surgeries in Solana Beach, California, and schedule a consultation with Dr. Charlotte Etesse or Dr. Stacy Godes, call us today at 858-794-7768.
Cavitations are non-healing voids in the jawbone. They are typically associated with traumatic injury to the area or a prior tooth removal and are caused when the lack of healthy blood flow through the jawbone leads to bacterial infection. Unfortunately, the only treatment for cavitations is surgical removal. As standard medications and homeopathic remedies cannot affect these lesions due to the lack of blood flow, the best option is to remove the cavitation before it can cause further damage.
When you receive a cavitation, our dentists will make a small incision into the gum to expose the bone. The infected area will then be cleaned to remove the unhealthy and diseased tooth and bone. A sterile saline solution will be used to further clean the area, and the surgical site will be stitched closed. Our dentists will provide post-operative instructions to help you heal properly. Please follow these instructions, as they will reduce your risk of re-infection.
For more information about cavitation surgery and to make an appointment with our dentists, please contact our office today.