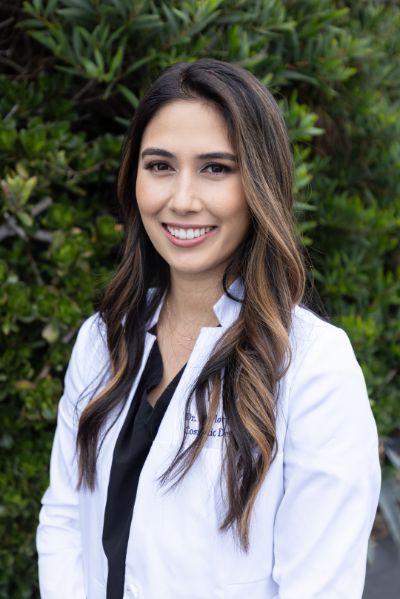 Charlotte Etesse, DDS
Dr. Etesse is a warm and compassionate dentist that focuses on whole-body health and is an expert in cosmetic and general dentistry, including veneers, clear aligner orthodontics, implants and emergency dental care. She graduated top of her class at UCLA and earned multiple recognitions for her outstanding clinical work and commitment to patient care. She completed an advanced education in general dentistry postdoctoral residency at the Veterans Administration Hospital in Long Beach, which allowed her to focus on conservative dental restorations, cosmetic smile designs, comprehensive full-mouth care and implant dentistry. This is where she began her interest in holistic dentistry and gained an appreciation for the connection between oral health and systemic health. Her practice of holistic dentistry focuses on patient education and discovering and addressing the root cause, not just treating the result or consequence of a larger underlying issue. The result is a balance between overall health, functionality and beauty. Dr. Etesse has also taken extensive continuing education courses, becoming an expert in cosmetic dentistry as well as clear aligner orthodontics. She is now proud to bring her expertise to serve the community of Solana Beach. Beyond her clinical and academic achievements, patients mostly know Dr. Etesse for her caring nature and friendly personality. She believes that the foundation for outstanding care is the doctor-patient relationship. Dr. Etesse gets to know her patients, their medical and dental histories, and their desires in order to formulate a plan that fits into their lifestyle. With Dr. Etesse, patients are active participants in their dental care decisions and know that their comfort is a top priority.
Outside of dentistry, you can find Dr. Etesse relaxing at the beach or eating at a local restaurant with her husband. She appreciates good food because she comes from a family of chefs! She has loved exploring San Diego's eateries and supporting local businesses. She is excited to work with Dr. Godes and continue the commitment to overall health and wellness as part of your dental care.
PROFESSIONAL MEMBERSHIPS
RESIDENCY and NOTABLE CONTINUING EDUCATION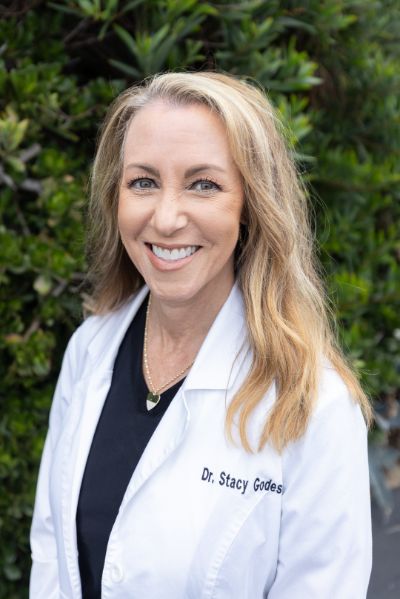 Stacy Godes, DDS — Holistic and Cosmetic Dentist
Dr. Stacy Godes (pronounced "Goddess") chose to pursue a career in the dental profession as a way to help people achieve their goals related to overall health and well-being. Combining the art and science of dentistry into a tool for healing is a passion for Dr. Godes as she works to promote the health, wellness and healing of her patients.
Dr. Godes may not have started out as a holistic dentist but her early experiences in traditional dentistry left her wanting to find a better way to treat patients, with an increased focus on the whole person. Having a deep passion for health, fitness and nutrition in her personal and professional life combined with an ingrained appreciation for non-traditional health care alternatives, Dr. Godes eventually turned to holistic dentistry. Holistic dentistry has since become not only a satisfying philosophy but a practice that allows Dr. Godes to blend personal lifestyle with professional ideals. Her goal is to improve overall health, wellness and longevity for generations to come.
Dr. Godes has become one of the best in her field. Today, she is an expert in ozone treatments, cavitation surgeries and mercury extraction among many other biological dental treatments, and she has trained with some of the top organizations and doctors in the field of biological dentistry.
Dr. Godes also continues to study diet and nutrition and their impact on wellness. Striving to combine the techniques and artistry of general dentistry with an ever-expanding understanding of the impact that oral health has on the entire body, Dr. Godes can provide care beyond that normally offered by traditional dentistry. She describes her greatest professional accomplishments as using holistic techniques to achieve improvements in the health of very sick patients who feel that traditional medical and dental practitioners have given up on them.
When not at the office, Dr. Godes enjoys working on her own health and fitness routines, traveling, reading, outdoor activities, cooking, and spending time with her family, which includes a supportive husband, three children, two grandchildren and two dogs.
PROFESSIONAL MEMBERSHIPS
RESIDENCY and NOTABLE CONTINUING EDUCATION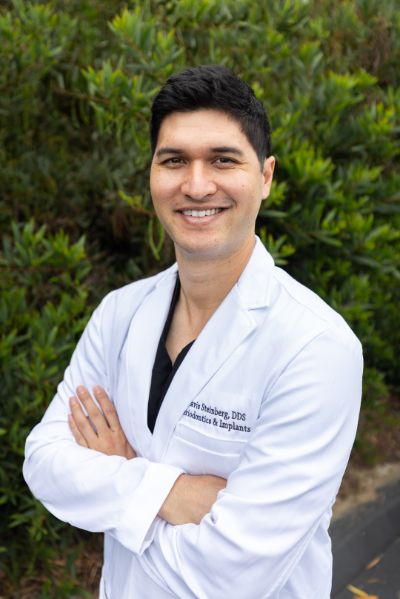 MEET DR. TRAVIS STEINBERG
Experience
Dr. Travis Steinberg is a compassionate practitioner that values high quality dentistry and the overall patient experience. As a native San Diegan, he feels gratified to now improve the overall oral health of the San Diego community. Dr. Steinberg attended the University of California, Los Angeles where he graduated with honors and earned a Bachelor of Science degree. He completed his dental education at the UCLA School of Dentistry where he excelled, graduating Summa Cum Laude at the top of his class.
Dr. Steinberg developed an interest in periodontal and dental implant surgery while in dental school and pursued this interest with more advanced surgical training as part of a postgraduate residency at UCLA. During this residency he also performed research on the stability of dental implant designs and implementation of the periodontal disease classification. After earning his certificate in periodontics and implant surgery, he has continued his relationship with UCLA by serving as course director for current literature review with periodontics residents.
Professional Affiliations
RESIDENCY and NOTABLE CONTINUING EDUCATION
Outside of Dentistry
Dr. Steinberg is a big sports fan. He enjoys watching sports and playing sports, including basketball and tennis. He met his wife, Charlotte, during dental school and they can often be caught enjoying leisurely hikes, trying out new restaurants, and spending time with their two nieces.