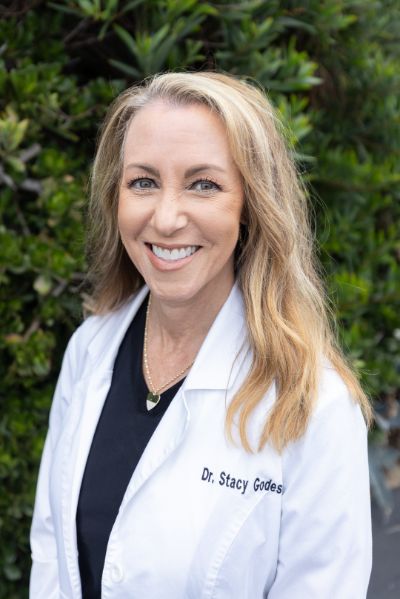 Stacy Godes, DDS — Holistic and Cosmetic Dentist
Dr. Stacy Godes (pronounced "Goddess") chose to pursue a career in the dental profession as a way to help people achieve their goals related to overall health and well-being. Combining the art and science of dentistry into a tool for healing is a passion for Dr. Godes as she works to promote the health, wellness and healing of her patients.
Dr. Godes may not have started out as a holistic dentist but her early experiences in traditional dentistry left her wanting to find a better way to treat patients, with an increased focus on the whole person. Having a deep passion for health, fitness and nutrition in her personal and professional life combined with an ingrained appreciation for non-traditional health care alternatives, Dr. Godes eventually turned to holistic dentistry. Holistic dentistry has since become not only a satisfying philosophy but a practice that allows Dr. Godes to blend personal lifestyle with professional ideals. Her goal is to improve overall health, wellness and longevity for generations to come.
Dr. Godes has become one of the best in her field. Today, she is an expert in ozone treatments, cavitation surgeries and mercury extraction among many other biological dental treatments, and she has trained with some of the top organizations and doctors in the field of biological dentistry.
Dr. Godes also continues to study diet and nutrition and their impact on wellness. Striving to combine the techniques and artistry of general dentistry with an ever-expanding understanding of the impact that oral health has on the entire body, Dr. Godes can provide care beyond that normally offered by traditional dentistry. She describes her greatest professional accomplishments as using holistic techniques to achieve improvements in the health of very sick patients who feel that traditional medical and dental practitioners have given up on them.
When not at the office, Dr. Godes enjoys working on her own health and fitness routines, traveling, reading, outdoor activities, cooking, and spending time with her family, which includes a supportive husband, three children, two grandchildren and two dogs.
PROFESSIONAL MEMBERSHIPS
RESIDENCY and NOTABLE CONTINUING EDUCATION
University of the Pacific, San Francisco California
Advanced Education in General Dentistry
Continuing Education series through Arrowhead Lab/Dick Barnes Group including Total Team Training, Advanced Cosmetics, Over the Shoulder Hands on Cosmetics, Occlusion, Implants
Focused Training in Ozone Therapy
Advanced CEREC Training
Advanced 3D Cone Beam Training